Share & Absorb – Retail Expo 2019
About a year ago, Punto Consulting launched the Hub of experts, a new working formula. This was created to cover the hybrid nature of retail today in the most flexible and collaborative way. And last week was the perfect moment to celebrate according to their beliefs; sharing experiences and learnings in an international environment, surrounded by great thinking retailers.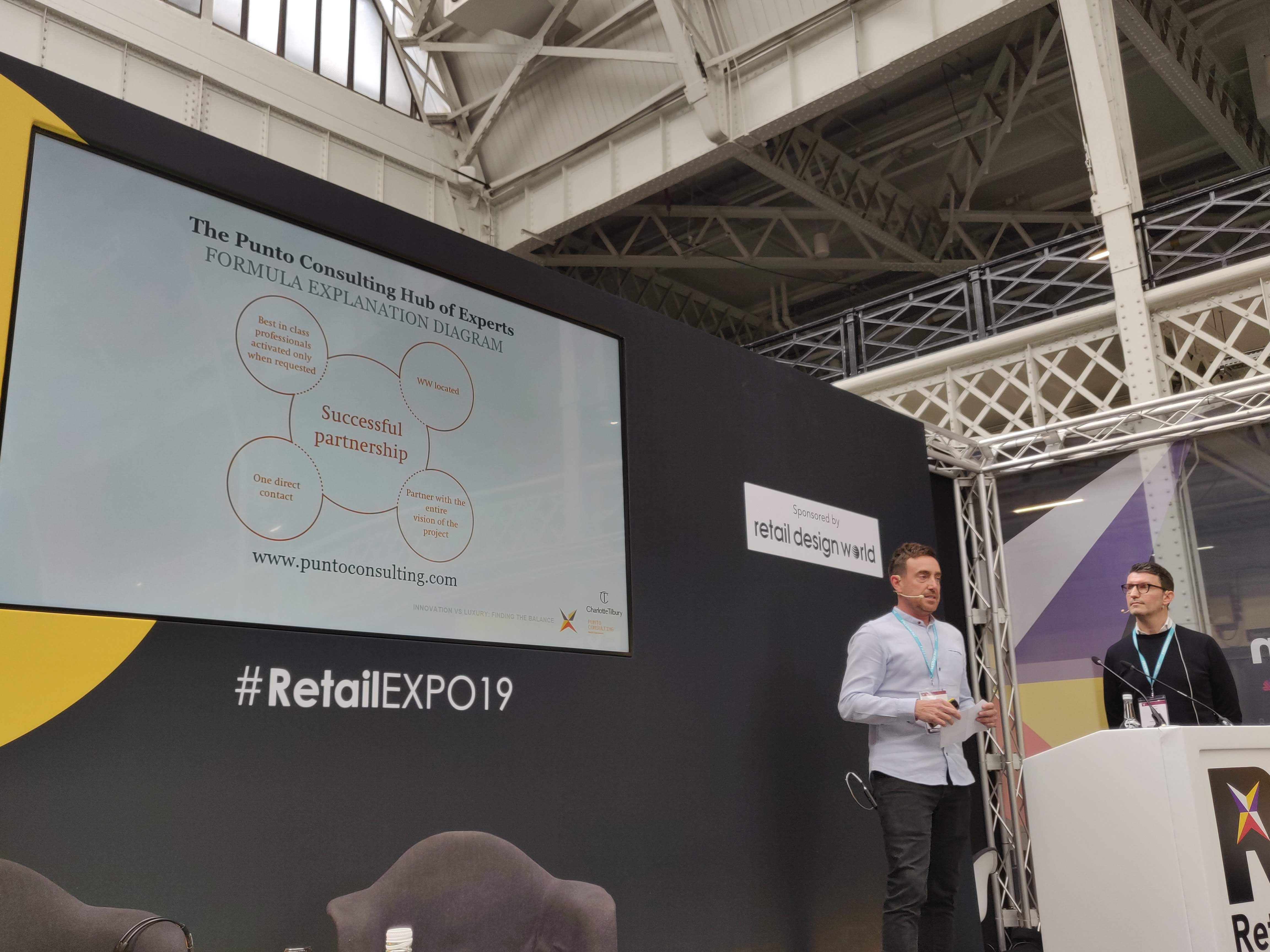 The Retail Design expo, took place at the Olympia Hall, in the heart of London, UK. This annual event is known for its retail market, store design, tech and display trends. Among big players and start-ups, we could see the innovative ideas that retailers are applying to deliver a better service to their consumers in a 360º way. From big data to new payment methods, the expo corridors were filled by competitors, suppliers, potential customers and conference halls, where the main retail trends were explored.
At the Store & Design conference theater, Adrià Blanc, Punto Consulting CEO was pleased to share the stage with long term client and friend, Luca Calcamucchio, currently applying his expertise at Charlotte Tilbury as Global Store Design and VM Director.
The main focus of the session was to discuss the balance between Innovation vs Luxury, but they went way beyond these and some strong retail pillars were shared.
Here's some relevant highlights:
⁃ Experience: Merging clicks & bricks (not the other way around in this case), stores are finding new ways to keep relevant to a shifting consumer base. Starting from the moment the consumer walks past a shop window, industry leaders are developing interactive and immersive marketing strategies to capture and hold shopper's attention. Co-creating studios, interactive merchandising and service market place. Forget Point of sale, retail now is all about Point of Experience.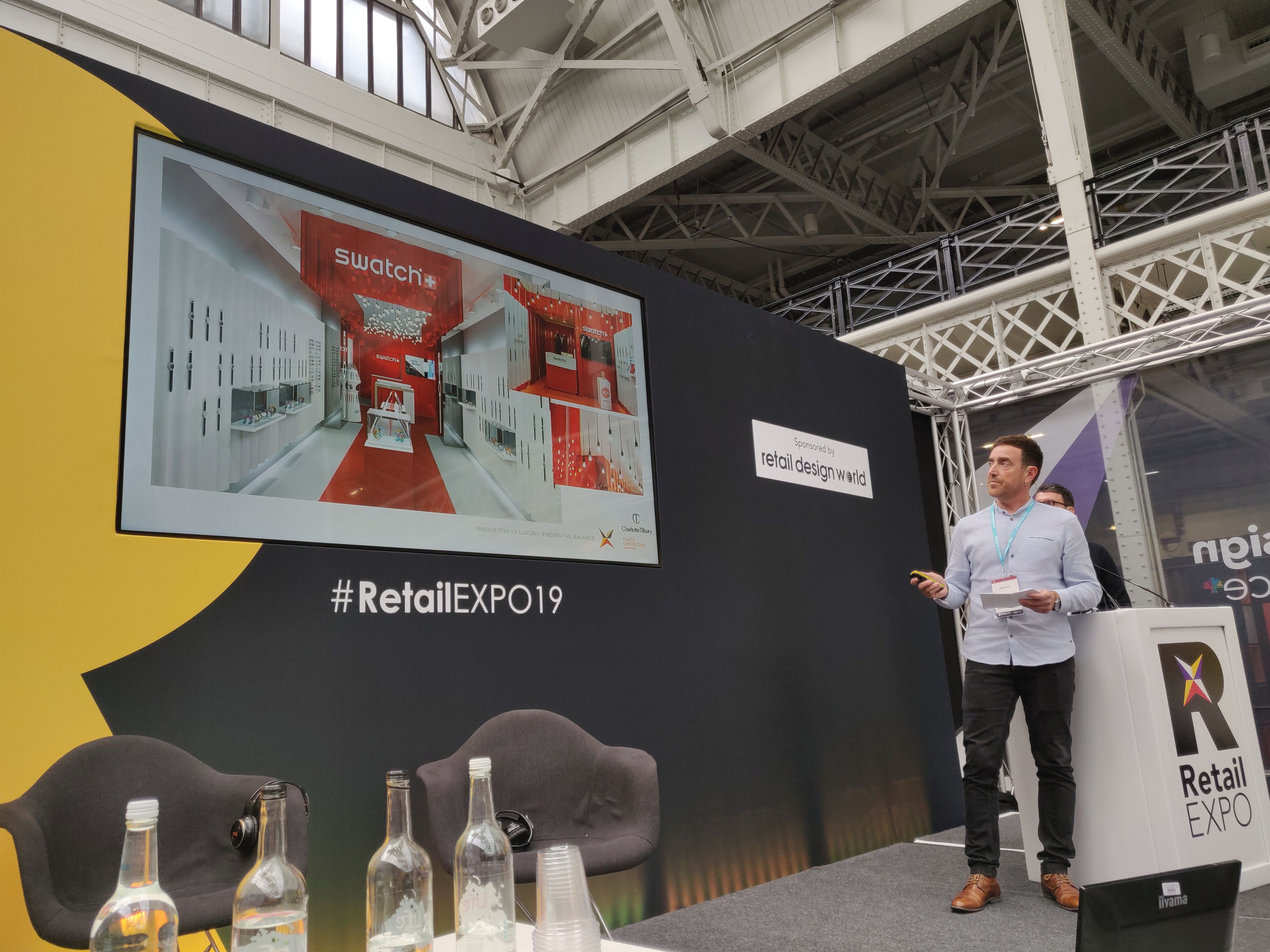 ⁃ Phygital: On and off line channels should speak the same language and be as seamless as possible. Coherence and consistency are your key words to open retail heaven doors. Keeping the same tone is vital.
⁃ Bespoke: As the shopper evolves, so too must the retailer. The most refined method of personalisation of the client's experience must be achieved to cover the next generation of customers expectations. The more you know me (and make it explicit), the better. We all want to feel special and unique. So why keeping promoting seasonal offers if you could send me exactly what I'm looking for?
⁃ Digital vs Human: It is definitely not "an either or", but the truth is, if digital is yes, human touch is a double yes. So investing in store staff should be one of the biggest assets of every brand.
Last but not least, after digesting all the comments and questions of this presentation, the pannel next door were sharing the importance of considering partnered galleries, (shopping & dinning formats as an example). Collaborations that please consumers but also help brands and retailers to maintain several SqM active at the most coveted highstreet spots.
Keep your customer longer by amplifying your offer, use architectural storytelling and make them part of your world. Sales will come.
Adrià Blanc | Punto Consulting CEO